Speaker Pelosi Addressed The Anti-Semitic Statements Made By Rep. Ilhan Omar But Fails To Remove Her From Foreign Affairs
Monday afternoon, House Speaker Nancy Pelosi issued a statement addressing the inappropriate behavior from the Minnesota Representative Ilhan Omar. Representative Omar is a Muslim woman originally from Somalia who has constantly engaged in rants criticising the Nation of Israel and siding with Palestine. Over the weekend, the House Representative from Minnesota Ilhan Omar tweeted "AIPAC" (American Israel Public Affairs Committee) was lobbing for American politicians to continue to fund part of the defense for Israel saying "it all about the Benjamins."
AIPAC! https://t.co/UdzaFUEfrh

— Ilhan Omar (@IlhanMN) February 11, 2019
In the Speaker Pelosi statement it does not show any sort of reprecussion other than and "slap on the hand." The biggest concern for Americans is that Representative Ilhan Omar will continue to be part of the Foreign Affairs despite that fact that the Representative proposed to reduce the sentence on individuals who seek to join the ISIS terrorist organization and later de-fund the Department of Homeland Security (DHS) that keeps our nation safe.
In our conversation today, Congresswoman Omar and I agreed that we must use this moment to move forward as we reject anti-Semitism in all forms. https://t.co/UpZA3DNgQs pic.twitter.com/1Z6rH65e3M

— Nancy Pelosi (@SpeakerPelosi) February 11, 2019
An hour after Speaker Pelosi's released statement regarding the zero tolerance of anti-Semitism in the Democrat party,  Representative Ilhan Omar issued a statement apologizing for her remarks over the weekend with a caption "listening and learning, but standing strong."
Listening and learning, but standing strong 💪🏽 pic.twitter.com/7TSroSf8h1

— Ilhan Omar (@IlhanMN) February 11, 2019
This is not the first nor expected to be the last time Representative Ilhan Omar says anti-Israel and anti-semitic statements since she has done it before in 2012. Representative Omar tweeted out in the part that "Israel has hypnotized the world" and she hope we can see "the evil doings of Israel" with the hastags being pro-Palestine.
Palestine elected the leader of
Please follow and like us:
Trump Was Right: Democrats Will Obstruct The National Emergency To Prevent Him From Building The Wall
On Friday after President Trump declared a national emergency, Democrats rushed to obstruct the President from building the wall on our southern border, as predicted. Speaker Pelosi made comments such as banning the 2nd Amendment if a Democrat ever got into office because "gun violence is a national emergency." However, her comment was like that of tyrannical government, which is why we have the 2nd Amendment in the first place. The President is correct to declare a national emergency over border security when we have seen thousands of people in non-stop migrant caravans headed to the United States trying to cross illegally in less than a year through Mexico.
— Donald J. Trump (@realDonaldTrump) February 16, 2019
The Democrats, including the Governor of California Gavin Newsom, have launched law suits against the President for using military funding to build the wall. Democrats are calling this declaration a "Fake national emergency" after President Trump said, "I could do the wall over a longer period of time. I didn't need to do this, but I'd rather do it much faster, " referring to the wall.
.@realDonaldTrump's actions clearly violate the Congress's exclusive power of the purse, which our Founders enshrined in the Constitution. The Congress will defend our constitutional authorities in the Congress, in the Courts, and in the public, using every remedy available.

— Nancy Pelosi (@SpeakerPelosi) February 15, 2019
Senate Minority Leader Charles Schumer released a statement calling the national emergency unlawful and adding that all the reasoning that the President presented in order to declare his actions an emergency during his press briefing was a manufactured crisis. Senator Schumer, who during the Obama Administration called for a border wall and spoke against illegal immigration, is now saying that the President's request for secure borders make America less safe.
The President's unlawful declaration over a crisis that does not exist does great violence to our Constitution and makes America less safe, stealing from urgently needed defense funds for the security of our military and our nation.

My statement with @SpeakerPelosi: pic.twitter.com/GAoqNYe5MI

— Chuck Schumer (@SenSchumer) February 15, 2019
In 1907, President Theodore Roosevelt build the fence in our southern border between the United States and Mexico through the Roosevelt Reservation that provided a 60 foot easement along the border for government use. The documents of his bill are still archived in the government website. Not only the President Roosevelt bill available but also the documents showing that the Executive and Legislative branch both agreed to build a wall during the Bush Jr. and Obama Administration where Schumer and Pelosi both were in favor of the border wall. It is unclear why the wall was not build in 100% of the border, but President Trump insists on finishing the project that begin over a century ago.
Please follow and like us:
House Republican Steve Scalise Calls For Speaker Pelosi To Remove Rep. Ilhan Omar From Foreign Affairs Committee For Anti-Semitism
Today, Wednesday afternoon, the Republican House Representatives held a press conference to talk about the budgeting for the border wall that Democrat leaders continue to obstruct. The President requested a minimum of $5.7 billion dollars to fund a steel barrier wall on out southern border, but Democrats denied the request.
List below provided is how the budget will be used for border security: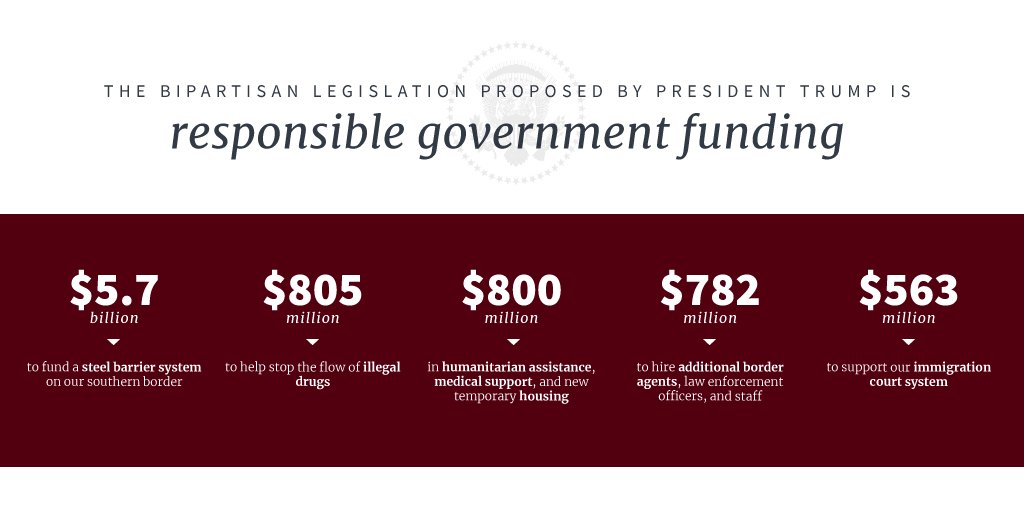 After the House Representative Scalise brought up how the Democrat party has gone so far left where Republicans had to negotiate to stop Democrats the release of foreign terrorist caught by Ice agents and other border patrol. Rep. Saclise told reporters about the concerns of the Department of Homeland Security, "If we detain terrorist, if we detain felons, that we don't have to let them go because we run out of beds. We actually had to negotiate that." In the same subject of DHS, which Democrat Representative Ilhan Omar openly advocates to defund the department, Representative Scalise took the opportunity to side with President Trump to ask Speaker Pelosi to remove Ilhan Omar from the Foreign Affairs Committee.
Full statement from Republican House Representative Steve Scalise on the anti-semitic matter:
"On another front note, we've been speaking out against the growing anti-Semitism that we've been seeing from some of the Democrats in Congress. We've been disappointed that their leadership hasn't been strong enough in calling that language out. You know, you can see even with Congresswoman Omar in her recent statements. She had to apologize, but as she unequivocally apologized, she actually equivocated in that apology and went after some of the organizations she had criticize before. And so, it's not a true apology and frankly I don't think she should be sitting on the House Foreign Affairs Committee getting those classified briefings of some of the very countries like Israel that she's been speaking out against. And I think that's a concern. I think Speaker Pelosi ought to remove her from that committee- She hasn't done so, yet. So we need to see more strong actions by the Democratic leadership against the growing anti-Semitism that we are seeing from their party."
Only a few hours before the Republicans when out to speak to the press, Representative Ilhan Omar retweeted a post were Trevon Timm called the Israelites a "murderous regime."
Representative Scailse previously mentioned a similar statement over Twitter two days prior to this press conference.
Good that some Dems have condemned the disgraceful anti-Semitic remarks of Rep. Omar—but their words are empty unless Dem leaders remove her from the Foreign Affairs Committee. No one with her anti-Semitic views should be allowed to represent US foreign policy on that committee.

— Steve Scalise (@SteveScalise) February 11, 2019
Please follow and like us:
Alexandria Ocasio-Cortez Caught Lying About Her Proposed 'Green New Deal' Posted On Her Own Website
Friday, Fox News' Tucker Carlson had Rep. Alexandria Ocasio-Cortez's policy adviser Robert Hockett to address some of the controversial propositions in the "Green New Deal" proposed by Democrats on Thursday. Tucker Carson asked Professor Hockett, "Why would we ever pay, quote 'people who are unwilling to work?'" Professor Hockett did not hesitate to respond and denied proposition, "I… we never would, right? and AOC has never said anything like that, right?" he added, "I think you're referring to some sort of document, I think that some doctored document has been circulating."
Watch what happens when Tucker Carlson steps out of the conservative bubble and brings on an @AOC policy adviser who debunks all the conservative media lies straight to his face (spoiler: it doesn't go great for Tucker) pic.twitter.com/joDNXBBB7G

— Andrew Lawrence (@ndrew_lawrence) February 9, 2019
The Green New Deal was originally posted on House Rep. Ocasio-Cortez's own website and was later taken down when her own political party rejected the extremely expensive proposal that would end plane transportation, get rid of "farting cows," and compensate those "unwilling to work." NPR news published and article about Rep. Ocasio-Cortez's deal providing the links to her original document that no longer exist. However, the internet never forgets and the original link to the Representative's proposal is archived. This document proves AOC's adviser to be a liar when he denied the questions asked by Tucker Carlson.
House Representative Alexandria Ocasio-Cortez retweeted the clip of the interview with her policy adviser denying her own bill, which makes her complicit to his false statements. But why would Rep. Ocasio-Cortez deny her own bill if she was proud to propose these silly policies?
Liberal independent reporter Tim Pool also pitched in information to the situation:
This is getting scary.

AOC and others are straight gaslighting people.

NPR still has the faq published.
CNBC reported the same.

The web archive from her website still exists https://t.co/SazZUyxyGg

— Tim Pool (@Timcast) February 9, 2019
This is the full document from AOC's website can be found here. Alexandra Ocasio-Cortez knew it was a lie and she decided to push the lie regardless. Democrats did not pass Ocasio-Cortez's bill for the same reason that it would be too expensive, extreme, and unrealistic.
Please follow and like us: