Clinton Foundation Lawyer Storms DC For Roger Stone's Head As Leading Deputy In Mueller Probe
Thursday, Former First Lady, NY Senator and Secretary of State, who is also a twice former presidential candidate, Hillary R. Clinton, was the center of a House Probe into global corruption with her nonprofit foundation, The Clinton Foundation.
Also in the news, and with ties to the Clinton Foundation,  is Special Counsel Robert S. Mueller's never-ending probe of President Donald J. Trump and his associates, including high profile pundit and friend of Trump's, Roger Stone.
"At this point, the Senate Judiciary and Intelligence Committees have not subpoenaed Stone. Both panels had asked him to produce documents and talk to committee investigators," reported Reuters.
"Senator Dianne Feinstein, the senior Democrat on the Judiciary Committee, had asked Stone to turn over documents or communications on his attempts in 2016 to obtain data hacked from computers used by Clinton and other leading Democrats, including her senior campaign adviser John Podesta," Reuters said.
Feinstein, a leading member of the resistance against Trump, who has ties to Communist spies, is not the only reason to fear the power of the US Government to corrupt the legal process in the Mueller Probe.
IMBALANCED:
Why does the Mueller team have 13 hardened Democrats, some big Crooked Hillary supporters, and Zero Republicans? Another Dem recently added…does anyone think this is fair? And yet, there is NO COLLUSION!

— Donald J. Trump (@realDonaldTrump) March 18, 2018
HIGH PROFILE MUELLER PROBE DEPUTY RHEE
According to the Washinton Post, "Jeannie Rhee, a former partner at WilmerHale who has served in the Office of Legal Counsel and as an assistant U.S. attorney in Washington.
Rhee donated a total of $5,400 to Clinton's campaign in 2015 and 2016, and a total of $4,800 to the Obama Victory Fund in 2008 and 2011. She also made smaller donations totaling $1,750 to the Democratic National Committee and to various Democrats running for Senate seats.
Voter registration: Democrat," they reported.
BENGHAZI AND CLINTON FOUNDATION TIES
Rhee, Represented Barack Hussein Obama's aide Ben Rhodes and Hillary's family charity – Clinton Foundation.
Not only did Rhee represent Hillary henchman Ben Rhodes during the Congressional Benghazi dog and pony show hearings, but she did so while an associate at Mueller's law firm Wilmer Hale.

In short, Mueller's firm defended Team Hillary. https://t.co/wQwmgubXpG

— John Cardillo (@johncardillo) December 7, 2017
In 2015 Rhee represented Clinton Foundation. She also represented Clinton in a lawsuit seeking access to her private emails. Rhee donated a total of $5,400 to Clinton in 2015 and 2016. Rhee also donated a combined $4,800 to Obama in 2008 and the same amount again in 2011.
RHEE LIED ABOUT HILLARY CLINTON EMAILS
Here's a find: Special Counsel Jeannie Rhee lied to a Federal Judge about Hillary Clinton's emails.

6/2015: Rhee tells Judge that Hillary has provided State Dept with all her emails.

9/2015: AP reports that there are new emails Clinton failed to turn over. pic.twitter.com/e3USprQzC1

— Techno Fog (@Techno_Fog) December 11, 2018
HER CHARACTER IS IN QUESTION
I knew Jeanie Rhee as a young lady debater who was good friends with my son who also was a Lincoln Douglas debater in PA I am TOTALLY shocked at who she has become and quite ashamed at her choices!

— Jan Remington (@jan_rem) January 25, 2018
SHE MAKES MUELLER PROBE QUESTIONABLE 
MUELLER BLUNDERS IN COURT:

Mueller team lawyer Jeanie Rhee argues there are 2 TB's of data covering hundreds of facilities, turns out she means "fake" social accounts. Admits they haven't translated data.pic.twitter.com/OGc793UiCR

— JW Watch (@JW_Watch) May 18, 2018
TARGET- ROGER STONE
Jeanie Rhee The prosecutor and the Mueller team who heads the potential prosecution of Roger stone lied to a judge in the Hillary Clinton email matter has a questionable character and has tainted the Special Counsel Probe by Robert S. Mueller.
"Chuck Ross at the Daily Caller reports an associate of onetime Trump adviser Roger Stone called out prosecutor Jeannie Rhee for her recent connections to the twice-failed Democratic presidential hopeful.
"The prosecutor, Jeannie Rhee, has questioned witnesses about Roger Stone, the Trump confidant who is one of the targets of the investigation, numerous sources tell The Daily Caller News Foundation. Rhee questioned Tyler Nixon, an attorney for Stone, just before his grand jury appearance on Nov. 2," the report said.
"[Rhee's involvement] was not disclosed to me prior to my testimony, and I find this to be deeply troubling and certainly Ms. Rhee should be recused or removed from the investigation," Nixon told the Daily Caller
Please follow and like us:
PERVERT WATCH: Former New York Democrat Congressman Anthony Weiner Has Been Released From Federal Prison
Former Congressman Anthony Weiner has been released from the Federal Bureau Prison where he was sent to after found guilty for sending sexually explicit text messages to a 15-year-old high school girl from North Carolina in 2017. It is unclear when the 54-year-old former Democrat Congressman from New York had been transferred from the federal prison or where he is currently. Weiner began serving his sentence at the Federal Medical Center Devens, located about 40 miles (64 kilometers) west of Boston in Ayer, Massachusetts, According to a report from Associated Press. His original sentence was a total of 21-months beginning November 2017 to August 2019. However, Weiner will be released 4-months earlier than his original sentence because of good conduct but will have to register as a sex-offender and spend three years on supervised release.
In August of 2016, the New York Post published an article where Weiner engaged in sexting with another woman, including sending one picture of his erected penis from July of 2015 while lying in bed with his sleeping toddler son next to him. Although this was not the first time Anthony Weiner was caught in a sex scandal while married to Huma Abadin, his first controversy begin in 2011 while he was still a New York House Representative. In September 2016, the FBI investigated Weiner for sexting with a 15-year-old girl from North Carolina that became his downfall. It was during this incident when his laptop was seized and emails related to the Hillary Clinton email controversy were found in it, causing once again for the FBI to aim their attention at the then presidential candidate. Then FBI Director James Comey re-opened that investigation close to the 2016 presidential election.To this day, Hillary Clinton blames former FBI Director Comey's decision as one of the many reasons why she lost the election to President Trump.
Weiner initially claimed his account had been hacked, then later admitted he had inappropriate online interactions with at least six different women while married to top Hillary Clinton aide Huma Abedin. In January of 2017, federal prosecutors were indecisive on whether or not to press child pornography charges against Weiner after certain material was found in his laptop. Weiner surrendered to the FBI in the morning of May 2017 and plead guilty to a single charge of sexting with a minor. Human Abedin, who has been Hillary Clinton's right hand since the 1990's, field for divorced after Weiner's sentences; A year later in October 2018, Abedin retracted from pursuing her divorce case and decided to instead work things out with the father of her child, Anthony Weiner.
Please follow and like us:
House Republican Steve Scalise Calls For Speaker Pelosi To Remove Rep. Ilhan Omar From Foreign Affairs Committee For Anti-Semitism
Today, Wednesday afternoon, the Republican House Representatives held a press conference to talk about the budgeting for the border wall that Democrat leaders continue to obstruct. The President requested a minimum of $5.7 billion dollars to fund a steel barrier wall on out southern border, but Democrats denied the request.
List below provided is how the budget will be used for border security: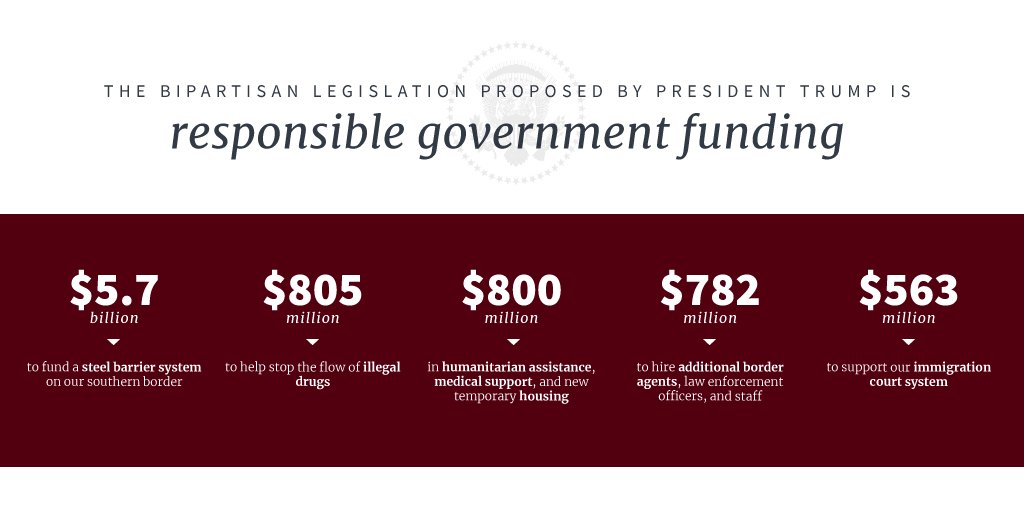 After the House Representative Scalise brought up how the Democrat party has gone so far left where Republicans had to negotiate to stop Democrats the release of foreign terrorist caught by Ice agents and other border patrol. Rep. Saclise told reporters about the concerns of the Department of Homeland Security, "If we detain terrorist, if we detain felons, that we don't have to let them go because we run out of beds. We actually had to negotiate that." In the same subject of DHS, which Democrat Representative Ilhan Omar openly advocates to defund the department, Representative Scalise took the opportunity to side with President Trump to ask Speaker Pelosi to remove Ilhan Omar from the Foreign Affairs Committee.
Full statement from Republican House Representative Steve Scalise on the anti-semitic matter:
"On another front note, we've been speaking out against the growing anti-Semitism that we've been seeing from some of the Democrats in Congress. We've been disappointed that their leadership hasn't been strong enough in calling that language out. You know, you can see even with Congresswoman Omar in her recent statements. She had to apologize, but as she unequivocally apologized, she actually equivocated in that apology and went after some of the organizations she had criticize before. And so, it's not a true apology and frankly I don't think she should be sitting on the House Foreign Affairs Committee getting those classified briefings of some of the very countries like Israel that she's been speaking out against. And I think that's a concern. I think Speaker Pelosi ought to remove her from that committee- She hasn't done so, yet. So we need to see more strong actions by the Democratic leadership against the growing anti-Semitism that we are seeing from their party."
Only a few hours before the Republicans when out to speak to the press, Representative Ilhan Omar retweeted a post were Trevon Timm called the Israelites a "murderous regime."
Representative Scailse previously mentioned a similar statement over Twitter two days prior to this press conference.
Good that some Dems have condemned the disgraceful anti-Semitic remarks of Rep. Omar—but their words are empty unless Dem leaders remove her from the Foreign Affairs Committee. No one with her anti-Semitic views should be allowed to represent US foreign policy on that committee.

— Steve Scalise (@SteveScalise) February 11, 2019
Please follow and like us:
JUST IN: Mueller Team Leaked Roger Stone's Indictment To CNN Prior To His Arrest
Two weeks ago after Roger Stone was arrested in his home by 29 FBI agents with automatic weapons, CNN repeatedly told his viewers that the reason they obtained the exclusive footage of the arrest was due to a "hunch" and not because someone from the FBI leaked the future arrest. It was speculated that perhaps the CNN crew camped out Stone's home for a number of days waiting for an arrest to happen. However, video footage was released from Roger Stone's home security cameras where the CNN vehicle is seen arriving at Stone's home at 5:45 AM (ET) before the FBI agents were at the scene 15 minuets later. Other video footage where the FBI agents were placing tape on the cameras by an identified agent was released to Infowars with Alex Jones.
Footage released on Friday shows the CNN crew that filmed #RogerStone's arrest arriving before the FBI came to conduct their pre-dawn raid.

They are seen receiving direction from agents before Stone is led out.

CNN denies accusations the timing of the raid was leaked to them. pic.twitter.com/T2UQZrmdqI

— Culttture (@culttture) February 9, 2019
New documents below provided by the Muller team tried to explain the reason why CNN's copy of the indictment had the matadate from January 23rd and not the 25th like the one from the DOJ  because it was only a "draft" similar to the original copy.
The Gateway Pundit obtained a copy of the matadata where it shows that CNN got a copy two days prior to the arrest and the email came for the FBI and not the court, as CNN claims. It also shows the person who sent out the copy was an agent suspected to be Andrew Weissmann who currently works on the Roger Stone investigation.
Post from Ivan Pentchoukov broke down the document leaked to CNN:
According to Smith, the metadata in the document says it was created by AAW at 11:04 p.m. on Jan. 23. Stone was arrested early on Jan. 25. I can't prove who AAW is, but Andrew Weissman would be one possibility. pic.twitter.com/im2DqWZ6JR

— Ivan Pentchoukov (@IvanPentchoukov) February 5, 2019
Including the President knew this was a witch hunt to take down anyone that has any sort of close connection to him. Roger Stone is a long life friend of the President and the arrest had nothing to do with the Russia collusion hoax that even MSNBC refuted Tuesday night. While CNN retract any of the false coverage of the Russia Hoax? We are yet to see.
CNN's ability to capture the arrest of Roger Stone was the result of determined reporting and interpreting clues revealed in the course of events. That's called journalism. #FactsFirst https://t.co/71zu7RylxX

— CNN Communications (@CNNPR) January 25, 2019
If the FBI Agent is found guilty of leaking classified documents to the public, including media outlets, the agent can face imprisonment. Roger Stone turned in the tape place on his security cameras by an FBI agent to the Senate Judiciary Committee as evidence of the cover-up and will fight this corruption against him. The Muller witch hunt has left Mr. Stone financially drained at this point.
If you wish to support Mr. Roger Stone in the fight of his life, you can donate here to help him with his legal fees. Another way to financially support Mr. Stone is by purchasing his merchandise at 1776.Shop were you will find other cool gear like the famous "Roger Stone did nothing wrong!" t-shirt.
Please follow and like us: